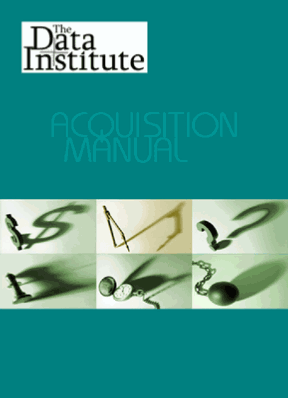 Is the company a worthy acquisition target?
The ACQUISITION MANUAL answers the following questions:-
Should one be interested in the take-over, merger or acquisition of the company?
What is the up-side and the down-side of the acquisition?
What are the problems and opportunities associated with the target company?
How would one approach the purchase, break-up and/or management of the company in the first 7 years after acquisition?
What are the long-term scenarios for a predator who acquires the company?
Is it going to be profitable to acquire the company?


The ACQUISITION MANUAL is a compendium the acquisition of the company:-
6,000 pages in 20 Volumes

On DVD plus Memory Stick

Company - Acquisition Target

Every conceivable

Profit & Loss

scenario explored

Historic Data from 1997 and Forecasts to 2028

Detailed checklists

Reader worksheets

Unlimited telephone hot line support

Unlimited telephone conferences with the editors

'

Option to Buy

' &

Contents & Index

service

Databases on tables and spreadsheets (Access & Excel)

In-house War gaming seminars

Corporate Attack P.R. package

On-going Combat Training for executives
Everything you every wanted to know about... acquiring the target company!
How should one manage the company after acquisition?


The Acquisition Manual supports the strategy for the acquisition of the company with highly detailed tactical plans investigate, analyse and suggest actions for each and every aspect of the running of the company post acquisition.
These are produced in 20 parts which are the blueprints for executives within the company after acquisition:-
The Chairman - the overall strategic picture.
The Chief Executive - financial risk and rewards itemised.
The Financial Controller - costs, cashflows and dangers.
The Marketing Director - the entire marketing mix explained.
The Sales Director - markets, tactics and sales potential.
Corporate Planning Director - long term strategic planning.
Product Managers - product planning and development.
Overseas Director - a complete guide to overseas markets.
Customer Services Managers - distribution logistics.
Advertising Director - exhaustive advertising analysis.
Market Research Manager - data on all potential markets.
Administration Managers - supervision and customer control.
Human Resources Department - human resources screening.
Quality Controller - product & service excellence,
New Product Manager - new product development criteria.
Technology - technological and process advancement.
Physical Handling - process and order handling.
Competitors - full analysis of major competitors.
Products - customer perceptions of products and services.
Performance - customer opinion on company performance.