 Seminars
We can provide in-house seminars for clients. The seminars are produced and conducted by relevant experts on the topics covered. The seminars are tailored for the client and can be produced for various corporate audiences.
Services
Business orientation for markets, products, industries, countries or customers.
Technical and technological issues.
Business and marketing systems, specifications and implementation.
Benefits
Bespoke in-house seminars, orientation or training sessions for your staff.
Expert speakers and trainers experienced and specialized in the issues.
Full supporting databases, documentation & tools are provided in the package.
Capabilities
Seminars can be provided at all levels, from Boardroom to departmental management.
Training packages can be developed for the client's own training staff.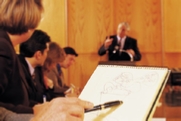 Bespoke Seminars
Availability & Delivery of Seminars
Seminars are available immediately and without restriction to Account Holders as part of their normal service contract.
After-Sales Service Seminars
Subject to staff availability, these seminars are available to non Account Holders.