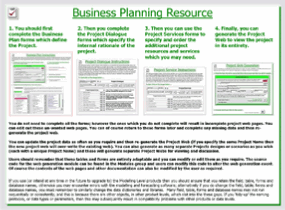 This is our research product and software tool for Business Planning for company start-up and investment projects.
We offer Business Planning Resource DVDs which give users market research specific to their proposed markets, a business plan generator, marketing and financial planning tools, company start-up methodology and, where necessary, the corporate research on competitors and potential investment or acquisition targets. In addition we offer a range of supporting services to assist our clients in reaching their goals.
Investors, entrepreneurs, and those interested in purchasing, establishing or running a business in local, national, or international markets will find the Business Planning Resource indispensable. We offer in one simple and cost effective package a complete and comprehensive answer to all your business research, corporate planning and company management questions.
The Business Planning Resource
The Business Planning resources are composed of two parts:
1. the Market Research, Business Planning and Utilities; and,
2. the Corporate Research.
How it works...
First, pick the Market Research title and area...
Users are able to choose from 5,600 Product & Market research titles which cover any one of the following geographic areas:-
World markets (all 205 countries)

Country and City markets (the national country market plus the towns & cities)

Country markets (the national market)

Town or City markets (the market in an individual town or city)


Once you have chosen the market research title and the market area of interest you can place your order. We will dispatch to you the Business Planning Resource DVD within 2 hours; or if urgently required, within 59 minutes online.
When you receive the Business Planning Resource DVD you will be able to study the market research; and once you have digested this research you can then generate your Business Plan and supporting documentation. The market research gives you all the product and market information you need to produce a valid and meaningful Business Plan.
Second, run the Business Planning software...
The Business Planning software is a programme which will take you through a series of forms and questionnaires which, in conjunction with the market research databases, provides the methodology that allows the generation of a Business Plan and a Project Action Plan; and if required, printed documentation, reports, and financial statements.
This software can be run as many times as needed to test and refine various scenarios and alternative Business Plans and Project Action Plans.
Third, use the Utilities & Tools to develop the Business Plan...
Once the Business Plan and Project Action Plan have been finalized, the utilities and tools can be used (if necessary) to progress, refine and implement the chosen Business Plan and Project Action Plan.
The above is provided as one Business Planning package, however in some instances users may also require Corporate Research and this can be obtained separately.
Finally, you may need additional Services or Corporate Research...
Our Services include:-
Corporate Research is often necessary for the following reasons:-
Tactical & Strategic Reports for medium & long-term company planning

Competitor Control Reports on how to combat and overcome your competitors

Acquisition Reports on potential investment, acquisition or take-over targets